[ad_1]
We can all agree that we are never on the hunt for new recipe ideas for dinner. After all, how many times can you cook mac and cheese before you get bored? Luckily, we're here to help. We got a sneak peek at Thrive Market's new cookbook, Healthy living made easy, which features over 60 easy recipes that can all be prepared in under 30 minutes, and has found some stellar recipes that will surely help you get out of your culinary rut! With this purchasable cookbook (the first of its kind!), You can scan the QR code at the bottom of each recipe and you will be able to purchase some of the essential ingredients you will need right from the Thrive Market website.
As a membership-based online marketplace, Thrive Market offers the highest quality, healthy and sustainable products at member-only prices, while also matching every paid membership with a free membership to someone who has need to provide access to the highest quality, healthy and sustainable. some products.
In this recipe, steaming with bone broth keeps the chicken extraordinarily tender, while allowing the rice to soak up all the bold flavor that fresh ginger, garlic, and green peppers have to offer. . Bonus: easy cleaning.
INGREDIENTS
INSTRUCTIONS
Combine chicken broth, ginger, garlic and chili in a 3 1/2 quart Dutch oven or other deep, high-sided saucepan.
Bring to a boil over medium heat, then add the rice and stir. Bring to a boil again, then add the chicken and season with salt and pepper.
Cover, lower the heat to low and cook for 20 minutes. At this point, the rice should have absorbed all of the liquid and the chicken should be tender. Garnish with green onions and cilantro. Serve with coconut aminos on the side.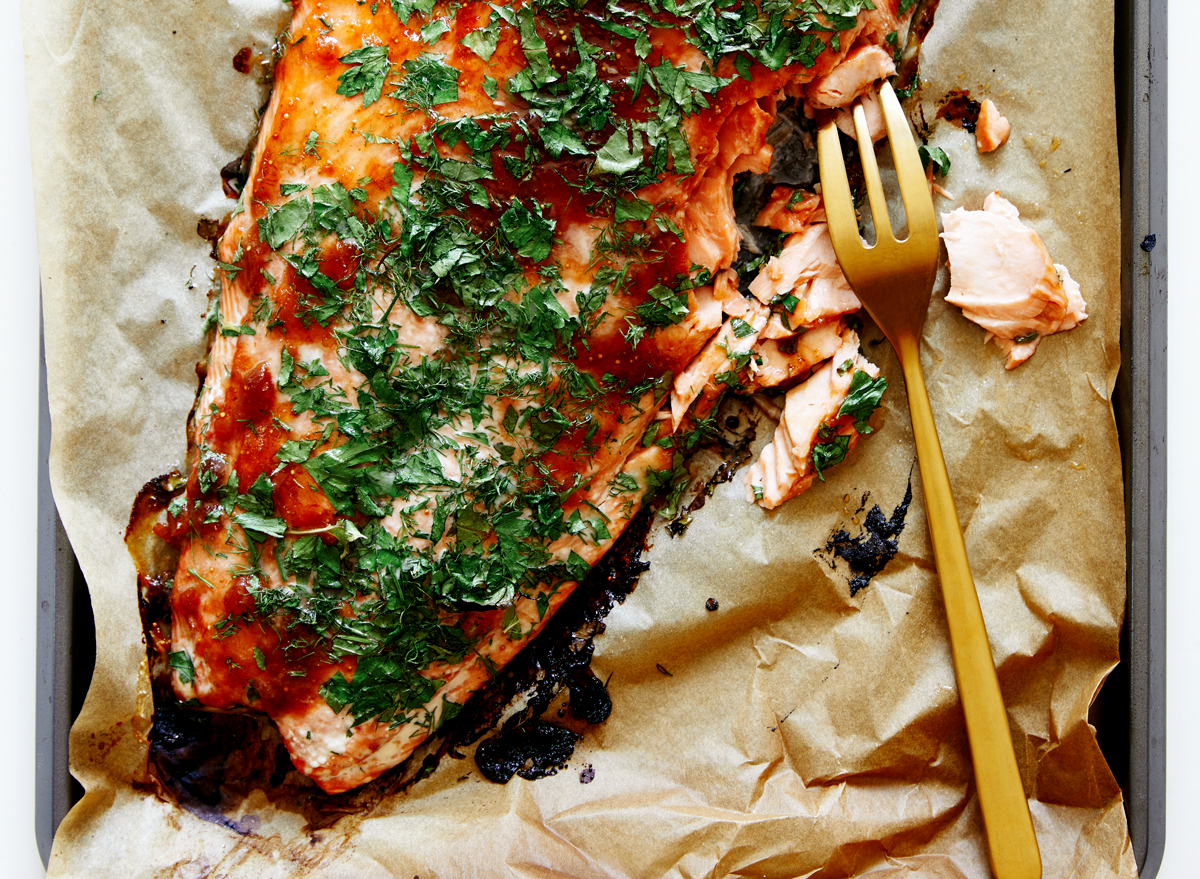 Canned figs and sriracha sauce might seem like an unlikely combination, but they pair wonderfully in this simple salmon recipe from holistic health expert Pamela Salzman. No fig jam on hand? Salzman says the apricot works too.
INGREDIENTS
INSTRUCTIONS
Preheat the oven to 425 ° F. Line a rimmed baking sheet with parchment paper.
Place the salmon on the prepared baking sheet. Drizzle the salmon with olive oil and rub to coat well. Sprinkle with salt and pepper.
In a small bowl, combine the preserves and sriracha. Spread a thin layer of the mixture over the salmon. Squeeze the herb mixture over the salmon to evenly cover it.
Roast salmon for 10 to 12 minutes, or until fish crumbles evenly when pierced with the tip of a paring knife. You want the fish to be slightly rare in the center. Cut crosswise into pieces and serve immediately.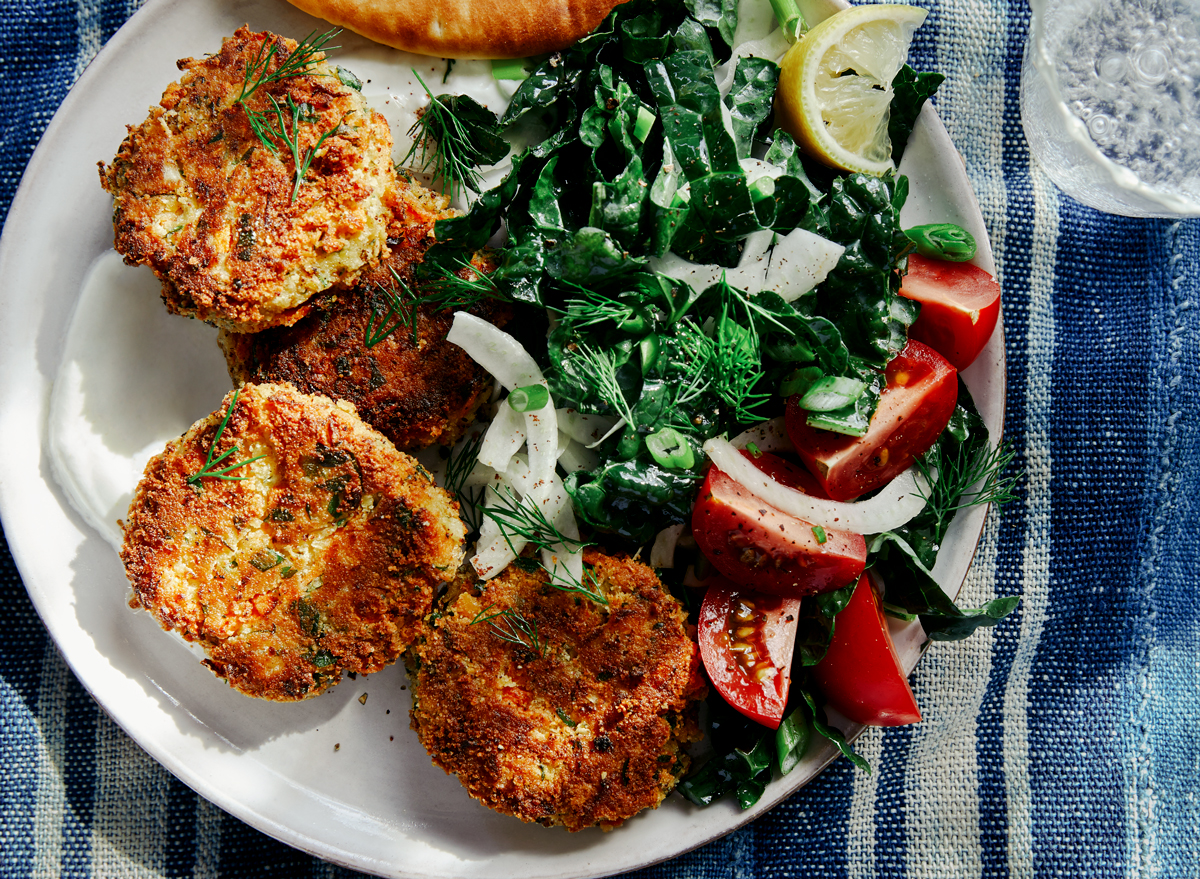 These low-fat chickpea patties start on the stovetop and end in the oven, giving them the crispy outer layer typically obtained with deep frying, but with less mess. They are wonderfully addicting on their own or as a main component of a simple pita sandwich, with parsley, cucumbers, cabbage, and yogurt sauce.
INGREDIENTS
INSTRUCTIONS
Preheat the oven to 350 ° F and line a baking sheet with parchment paper.
Place all the ingredients in a bowl and toss to combine. Shape the mixture into patties about 2 inches wide.
Heat a drizzle of oil in a pan over medium heat. Working in batches, cook the patties for 2 minutes per side, until golden brown and crisp. Transfer the patties to the prepared baking sheet. Bake for 5 minutes until cooked through.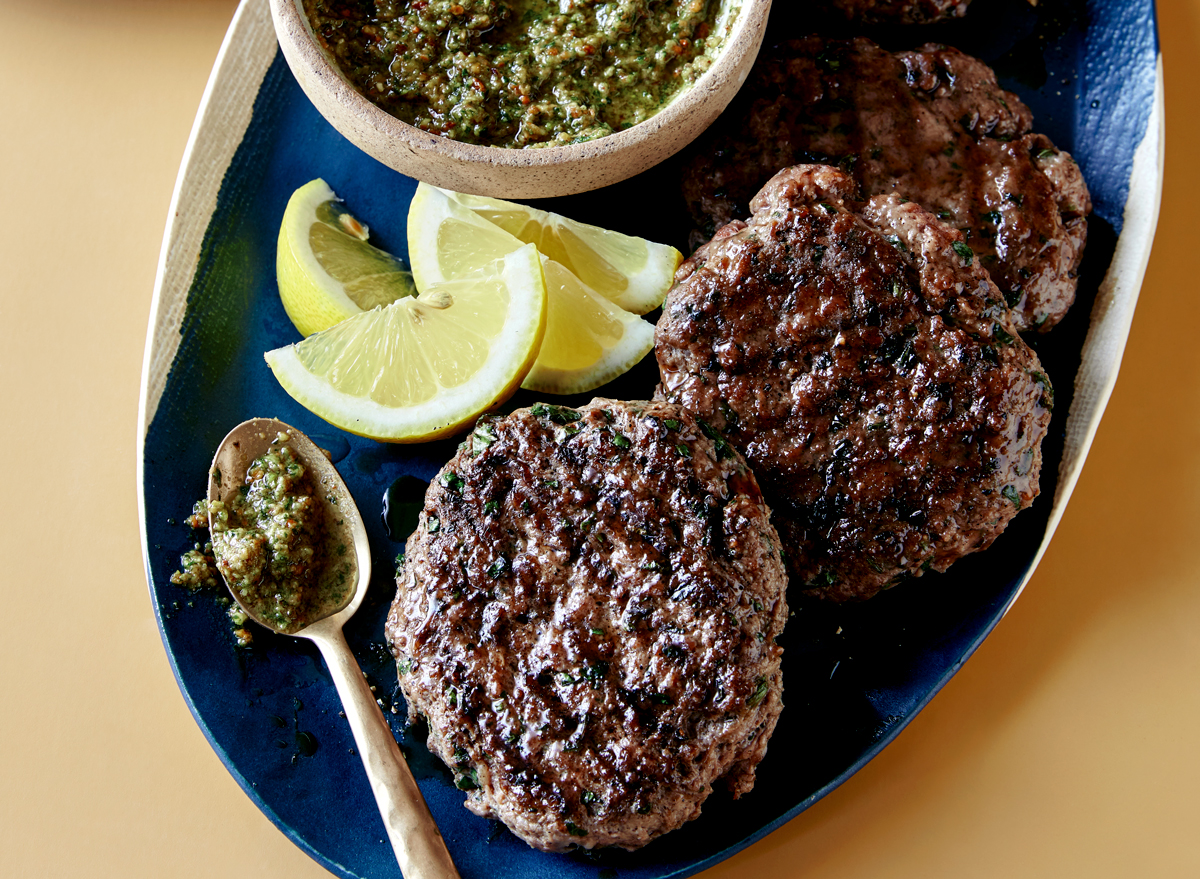 In this gratifying departure from your average beef burger, shared by paleo expert and Primal Kitchen founder Mark Sisson, the vibrant pistachio pesto balances the savory flavor of lamb, while the refreshing mint gives every bite a fresh finish.
INGREDIENTS
For the burgers
For the pistachio pesto
INSTRUCTIONS
First, prepare the burgers: mix the ground lamb, spices, chopped mint and parsley. Form 4 patties and pan-fry or grill, about 4 to 6 minutes per side.
Next, prepare the pistachio pesto: While the burgers are cooking, combine the garlic, pistachios, avocado oil, lemon juice, whole mint leaves and salt in a food processor. Serve the burgers with pesto on top.
[ad_2]